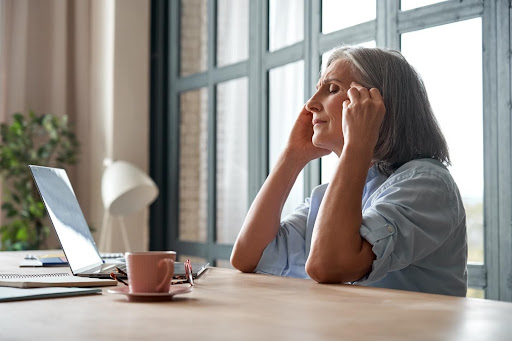 Guest article provided by: seniorcarecounsel.com
Caregiving is a physically, mentally, and emotionally demanding task. Not to mention, caregivers often have their own jobs, families, and responsibilities to take care of. If you are providing care for your elderly loved one, it's important to keep tabs on your own wellbeing and avoid getting burnt out. Let's walk through some warning signs of caregiver burnout and tips for getting the support you need. But first, what causes this type of burnout to occur?
What Causes Caregiver Burnout?
Since providing round-the-clock care to a loved one can be very demanding, caregivers often tend to disregard their own emotional, physical, and mental health. This pressure can be very overwhelming and tiring, eventually leading to burnout. Other specific factors that can cause caregiver burnout include:
Failing to separate your role as caregiver from your other roles (spouse, parent, friend, etc.)

Not having enough time, money, and resources to provide the level of care your loved one needs

Taking on more than you can handle and not accepting help from others

Setting impractical expectations for your loved one's health, especially if they are suffering from a disease like Alzheimer's or Parkinson's
Warning Signs of Caregiver Burnout
The symptoms of caregiver burnout are very similar to those of stress and depression. They can include:
Irritability

Emotional and physical fatigue

Feelings of hopelessness

Loss of interest in your favorite activities

Changes in appetite

Isolation from loved ones
If you start to experience any of these symptoms, seek out the support you need.
_____
Don't let the high cost of long-term care prevent you from seeking help. Find out how you and your loved one can cover these costs without exhausting your life savings. Download your free copy of Paying for Long-Term Care: The Essential Senior Guidebook today!
_____
How to Prevent and Relieve Caregiver Burnout
Whether you're looking to prevent burnout before it happens or relieve it once you start to notice the warning signs, here are some actions you can take to help:
Join a caregiver support group

. Connecting with individuals in a similar situation can help put things into perspective. You can also get insight and tips from other caregivers to help relieve some of your stress.

Accept help from family and friends.

You deserve a break every now and then. Don't be afraid to ask your loved ones for help so you can take a step back and recharge your battery.

Get professional assistance.

Although you want to do everything you can to care for your loved one, hiring a professional caregiver to provide part-time help or take over as the full-time caregiver is perfectly acceptable.
At the end of the day, it's important to take care of yourself. In order to provide sufficient care to your loved one, you need to manager your physical, mental, and emotional health as well. You should never feel bad for seeking the support and assistance you need.
_____
Not sure if it's time to move your loved one into a long-term care facility? Our team at Senior Care Counsel is here to help guide you through the process. Discover more about your loved one's situation by walking through our free Planning Assessment Tool. We'll provide a custom assessment of your situation, options for paying for long-term care, and professional planners in your area who can help.