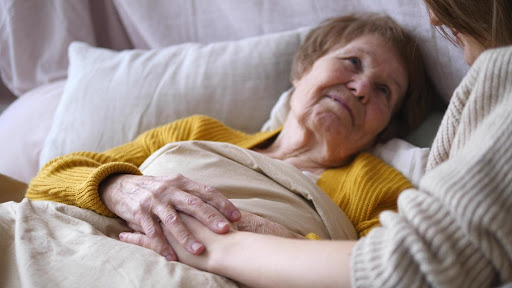 Guest article provided by: seniorcarecounsel.com
Are you caring for an elderly loved one whose condition is worsening? If so, you might be wondering when you should move them into a long-term care facility. How do you know when it's the right time? This decision is a difficult one that often comes with a lot of uncertainty and emotion. Here are some tips to help you know when it's time for your loved one to transition to a professional care facility.
_____
Worried about the cost of long-term care? Watch our full presentation on Eliminating the Financial Burden of Long-Term Care.
_____
Signs Your Loved One Needs Professional Care
They are experiencing severe cognitive or physical decline. 
This is a clear indication that your loved one needs professional care in a facility. Maybe they had a sudden health event that caused their condition to worsen, or perhaps they have been experiencing a gradual regression of their health over time. Regardless of how the decline happened, if they now need a higher level of care and round-the-clock assistance, it's probably time for them to move into a long-term care facility.
At-home care is becoming too expensive or unrealistic. 
As your loved one grows older and requires more hands-on care, it can start to become too expensive and impractical to continue at home. For instance, the caregiver may be forced to purchase certain equipment or cut down on their job hours to provide a higher level of care. In many cases, caregivers have to sacrifice a lot of their time, energy, and money, and sometimes, it can get to be too much. 
The caregiver is feeling burnt out.
Caregiving is an incredibly demanding task, and caregiver burnout is a very serious problem. Caregivers should never sacrifice their own wellbeing to provide care to an elderly loved one, especially if their health is rapidly declining. Therefore, if the caregiver is feeling worn out and experiencing high stress, it's probably the right time to move their loved one into a long-term care facility.
What it all boils down to: Your loved one needs a higher level of care that you are no longer able to provide.
_____
Choosing the Right Type of Long-Term Care Facility
Assisted Living Facility
Assisted living facilities are residential facilities that provide medical care and assistance with certain daily activities. Despite needing help with some tasks, residents still retain some of their independence. This type of facility is best for seniors who can get around by themselves and handle most day-to-day tasks yet require assistance with some activities.
Nursing Home
Nursing homes provide round-the-clock medical care and assistance with activities of daily living (ADLs), including bathing, eating, dressing, transferring, and toileting. Nursing home residents typically have a physical or cognitive impairment and need help with at least three ADLs. They need a higher level of care than what can be provided at home or in an assisted living facility.
Memory Care Facility
Memory care facilities are similar to nursing homes but are designed specifically for seniors with memory impairments, such as Alzheimer's disease or other forms of dementia. Residents receive 24-hour medical care, assistance with ADLs, and specialized care for memory issues.
_____
How to Pay for Long-Term Care
In addition to placing your loved one in a long-term care facility, you must also figure out how to pay the facility. The reality is long-term care can be expensive. Fortunately, you have options to cover these costs without exhausting your or your loved one's life savings. Discover how you can pay for long-term care, even if your loved one is already in a facility or about to enter one. 
_____
You should never feel guilty for moving a loved one into a nursing home. Simply put, many seniors reach a certain point where they need professional assistance. And a long-term care facility is the best place to get that help. That said, the transition can be difficult. Let us help. 
Visit us over at Senior Care Counsel, and we'll connect you with a professional who can develop a long-term care plan for your specific situation.